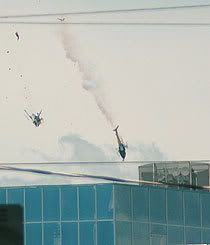 Video can be seen
here
.. Please be warned, it's not very pleasant.
My heart goes out to the victims and the victim's families tonight. Two news helicopters in Phoenix, AZ crashed into one another while covering a police chase. Channel 3 and Channel 15 have suffered greatly today. May God bring peace and healing to the people of
KNXV
and
KTVK
.
I cannot say anything more. Words fail me.