LITTLE STEWART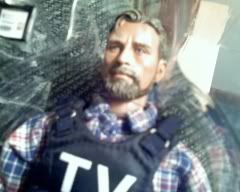 Yes, I buckled and got one. What can I say? It's not a cool robot like LLR's but I swear it does bear an uncanny likeness to one photog that will not be named.
Anyone have a lock of un-named photog's hair?
Man....I am in soooooo much trouble for this post.
ON EDIT: Since so many people are asking, I found Little Stewart on ebay. I searched for "WAR JOURNALIST" and found him. Was about $62.00 with shipping. It came directly from the People's Republic of China, so it took about three weeks.