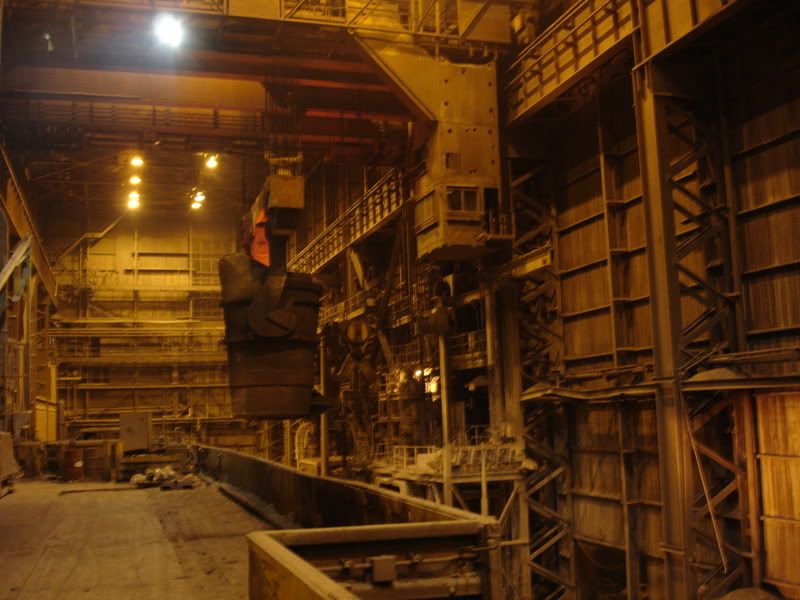 I grew up in Pittsburgh which in it's heyday was known as the steel capital of the world. Today however,my hometown is now a technology and medical city. I'd never been in a working steel mill(pronounced
still
mill to you non-Pittsburgh people) while working in Pittsburgh. I've driven by a few, the closest was the Edgar Thompson works in Braddock, PA but never been inside an actual working mill. Until yesterday.
All this week, I've been shooting these stories, "A Night At....". Basically a take off on the movie A Night At The Museum. We've been showing the things that come alive at night when you are asleep. Last night Obie, my reporter, and I shot at the A.G. Mittal steel mill here in downtown Cleveland.
It was fascinating to say the least. What I didn't expect was to be able to feel the heat radiating off these slabs from so far away. Things are kinda hot at 2000 degrees even when doused with water and being flattened into giant rolls of steel.
Another thing I didn't count on was waking up this morning with aching sinuses and blocked nasal passages. Pardon me for being graphic here, but I've been blowing out black crap today every time I blow my nose. I really don't know how the guys that work these mills can stand it. Maybe they're so used to it by now. God bless them for dealing with it. Lord knows, I couldn't.
I just want to be able to breathe normally again and stop expelling the black crap out my nostrils.